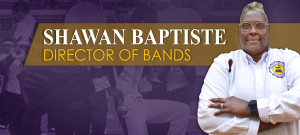 Texas College is pleased to announce that Shawan Baptiste has been named Director of Bands. Baptiste, an alumna of Texas College, brings a wealth of experience, expertise, and education to the Texas College Band, with a tenure of service as a band director and educator that spans over two decades.
With over 20 years of notable and expansive experience in the secondary public education realm, Baptiste joins the College from the Dekalb County School District (DCSD) in Stone Mountain, Georgia, where she served as the Director of Bands. As the third largest school district in Georgia, with over 138 schools and centers serving more than 92,000 students, Baptiste's leadership extended throughout the district in a multitude of impactful roles. In addition to her role as Director of Bands, she also served as the Fine Arts Department Chair, as well as provided oversight for the writing and implementation of the district wide K-12 music curriculum. Outside of Baptiste's music-related responsibilities, she also provided instructional support and served as the Multi-Tiered Systems of Support Site Coordinator, as well as gave oversight to 9th Grade Transition, which provided intervention and remediation support for ninth grade students in the subject of Math and English Language Arts. Further, Baptiste also served as a College and Career Advisor, which specifically focused on providing post-secondary education and career advancement opportunities to first generation students. Baptiste's Herculean efforts as an educator garnered her DCSD's Teacher of the Year Award in 2018.
As aforementioned, Baptiste is a proud graduate of the College; she received the Bachelor of Arts degree in Music Education from Texas College in 2009. She then pursued and completed the Master of Arts degree in Educational Leadership at Mercer University in Macon, Georgia. Baptiste also earned the Educational Specialist degree in Curriculum and Instruction from Piedmont College in Demorest, Georgia.
Despite having joined the College less than one month ago, Baptiste has hit the ground running with an aggressive nationwide band recruitment strategy. Her enthusiasm, expertise, and innovative approach is sure to jolt exciting new life into the program. Texas College excitedly welcomes Shawan Baptiste home.