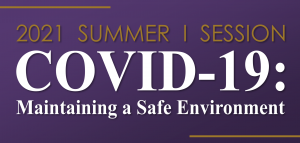 2021 Summer I Session
COVID-19: Maintaining a Safe Environment
Dear Students,
Welcome to the 2021 Summer I session. We are excited to have you return to the campus and look forward to seeing each of you. We understand the past year has been difficult and our goal is to keep everyone healthy, safe and well informed as much as possible. To that end, there are a few things we would like to share with you, to assist in our being able to maintain a safe environment for all:
Upon entering the campus, temperature checks will be done daily and anyone with a temp higher than 100.4○ will be directed to the Campus Health Clinic for further assessment;
Although the CDC no longer requires everyone to wear a mask, the College will require everyone on the campus to wear a mask at all times (except when eating);
Students will be required to wear their ID badge, at all times (mandatory);
Social Distancing is to be maintained at all times;
COVID-19 testing is available to all students, free of charge, in the Campus Health Clinic;
As a practice for social distancing, all water fountains have been turned off to ensure safety measures;
Meetings with Administrative Staff Members will be by appointments only;
In-person classes have limited seating to allow for social distancing, however the College have a "Lap-Top Rental Plan" for students needing a laptop;
We have taken important actions to minimize the opportunities of exposure to the Coronavirus with the COVID-19 Contingency Plan.
Student Rights and Responsibilities are outlined in the Student Handbook and the College Catalog for your convenience.