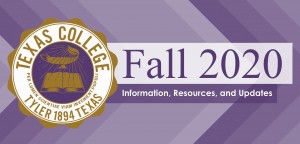 Dr. Fennell Announces Fall 2020 Plans
Dear Students, Alumni and Friends of Texas College,
Welcome to Fall term 2020! I am writing at this time to provide an update for Texas College regarding the unprecedented time in which we are experiencing. And, as this moment has proven difficult for many businesses and communities, I want to encourage us to continue to remain vigilant, strong, and sustain ourselves with the wisdom of God and practices that will keep us safe.
For Texas College, we have and continue to monitor the impact of the COVID-19 pandemic that affects our community. It is from this foundation that decisions and plans are made. Our efforts are not to compete with other entities and how they respond, but rather give consideration to the needs of our students, faculty and staff and internally assess what is needed for a safe environment pursuant to the resources we have available to us. With this as the backdrop of our planning, a decision has been made to offer online instruction only for the fall term. A continuous review will take place to establish what needs to be done for the spring term. And, with this as our focus, it should also be noted that we will suspend fall sports with the interest in returning with our sports programs for spring term.
I am hopeful that the posture that is being taken is understood. I especially hope that it is understood that this position is needed when there is no vaccine, nor increase in remedies that may combat COVID-19. And, as we look at the increase in the number of infections and deaths around the world and in East Texas, we find these measures necessary. Our number one priority is the safety of our students, faculty, staff and constituents.
I thank you for your continued support of Texas College and ask for your continued prayers as we and many others in the higher education community move to keep those safe who are entrusted to us. We will continue to provide you with updates as they occur. Additionally, we will continue to pray for your safety and well-being.
Sincerely,
Dwight J. Fennell
President
Letter from the Vice President of Business and Finance
Dear Student,
As Texas College comes into a new Academic year, I would like to thank you for choosing to continue your education with us. The Texas College community is aware of the financial challenges that many of our students and their families are dealing with, and we are making every possible effort to ensure that your time and money is well spent. To that effort, we have implemented the following:
Assessment Fees for the Fall 2020 Semester Have Been Reduced. For the fall 2020 semester students can expect to see a reduction in the amount of money that is paid towards assessment fees. Students will not be charged for activity and facility fees. Technology, health, and library fees will remain the same and will not increase. Additionally, the collection of parking decal fees and student ID replacement badge fees has been suspended for the fall semester.
Laptops Will Be Available for Students Use. In an effort to ensure that all students have technology that is necessary to complete their online courses, Texas College has arranged for students to request the use of a laptop. Students who receive a laptop will be charged a deposit fee of $250.00; the fee will be removed from the account at the end of the semester, when the laptop is returned.
Institutional, Athletic Scholarships Will Be Issued for the Fall 2020 Semester. Students who are enrolled at Texas College and participate in an Athletic sport or extracurricular activity such as Choir or Band may qualify to receive a scholarship for the fall 2020 semester. Inquiries about scholarship opportunities should be made with the Financial Aid office (financialaid@texascollege.edu).
Account Assessment and Counseling for Returning Students. Students who are returning to Texas College for the fall 2020 semester, who have experienced financial challenges in the past that may delay re-enrollment are strongly encouraged to contact our Business Office as soon as possible. You may email the Business Office at BusinessOffice@texascollege.edu or you may contact our Accounts Receivable Coordinator at (903) 593-8311, ext. 2274.
The Business Office looks forward to working with you during the 2020-2021 school year and prays that you and your family continue to remain safe during these challenging times.
Warm Regards,
Ms. Millicent L Rickenbacker, MBA
VP of Business and Finance
Fall 2020 College Calendar
August
August 3 – 11
Fall Registration Begins for All Students (Online Registration Only)
August 12
First Day of Class (Online)
August 12
Late Registration Begins (Fee Applies)
August 12 – 14
Timeframe to Add/Drop a Course
September
September 1
Spring 2021 Graduation Application Opens
September 7
Labor Day Holiday (No Classes/Offices Closed)
October
October 5 – 9
Fall 2020 Mid-Term Examinations
October 23
Final Day to Withdraw from a Course with a "W" Designation
October 26
Student Pre-Registration for the Spring 2021 Semester Begins
November
November 13
Final Day to Withdraw from the College
November 13
Final Day to Remove an Incomplete "I" Status from the Immediately Preceding Semester Before the "I" is Converted to an "F" Letter Grade
November 16 – 20
Fall 2020 Final Examinations
November 20
End of the Fall 2020 Semester
Fall 2020 Tuition and Fees
Download the Fall 2020 tuition and fees
Letter from the Vice President of Business and Finance - Laptops
Vice President of Business and Finance Letter - Laptops (PDF)
Dear Student,
Beginning with the fall 2020 semester, Texas College is providing students with laptops. Students who are in need of a laptop or who are interested in using a laptop are encouraged to complete the attached Laptop Loan Agreement form and return it to the Business Office. To meet the needs and expectations of all of our students, we are asking that the form be completed and returned to the Business Office as quickly as possible. Once the form has been received, the Business Office will begin processing requests for laptops.
The Laptop Loan Agreement form may also be accessed directly from our website. Questions regarding the use of a laptop and the laptop loan agreement form may be directed to the following email address: BusinessOffice@texascollege.edu
Once again, the Business Office looks forward to working with you during the upcoming fall 2020 semester.
Best Wishes,
Ms. Millicent L Rickenbacker, MBA
VP of Business and Finance
Laptop Loan Agreement Form
Download the Laptop Loan Agreement form
Letter from the Registrar & Dean of Enrollment Management
2020 Fall Registration
Dear New and Returning Students:
Welcome to Texas College and the start of the fall term 2020! We are excited about the year and await your arrival. This year will be somewhat different since all of our course offerings will be online. Classes will begin August 12, and we will officially begin the registration process next week. To assist you with the process, we are offering online assistance as well as administrative assistance by staff who can help you (if and when needed). Please be sure to note the following:
Admission
What makes a student fully admitted?
Completion of the admission application
Submission of high school (Transcripts from all institutions/colleges attended are also needed, if applicable;
Submission of the Texas College Medical Form (to be completed by Physician): this also includes the meningitis record within the last five years; and
Payment of the $20 application fee, unless otherwise informed.
Note: Once the above information is received, the College will send an official admission letter; this means you are fully admitted.
Financial Aid
What makes the financial aid process complete?
Completion of the free FASFA application with Texas College code 003638
Once we receive your completed (FAFSA application), you will be notified via your Texas College and/or your personal email of award eligibility or the need to submit additional documentation. Processing of files can take up to 5 days, once all items has been completed by the student,
Unless SAR is rejected, and requires corrections or you are selected for verification, students will receive an award notification, indicating the estimated awards and types of aid the student is eligible for from Texas College.
Receipt of an "Awards Letter" from the Office of Financial Aid. The letter allows you to complete your Business Office responsibilities. If financial aid awards do not cover the total cost of tuition and fees for the term, the student is required to secure payment arrangements with the business office.
Course Registration
What are the steps for registering for classes online?
Review of the "Degree Plan" for your major;
Review of the Course Schedule for the semester
Completion and submission of the online registration form
Note that once the registration form has been successfully completed, an acknowledgement letter will be sent by the Office of the Registrar. Your course schedule for the semester however will be sent to you by the Business Office once your courses have been fully processed.
We will be sending additional registration details your way in a short while. Thank you for being with us. Have a great semester …Go Steers!
Sincerely,
John J. Roberts
Dean of Enrollment Management & Registrar