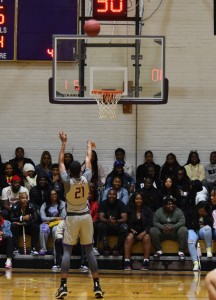 Texas A&M - Texarkana arrived at Gus F. Taylor Gymnasium Saturday afternoon, sitting alone in first place of the Red River Athletic Conference (RRAC) standings at 9-2, 16-3 overall, and ranked #27 in the nation. The Texas College Steers were determined to defeat the current #1 RRAC team after falling to the previous #1 RRAC team, LSU-Shreveport, 81-79 at the buzzer on January 12. Capitalizing on their second opportunity within two weeks to defeat a top team in the league, the Steers did just that by knocking off Texas A&M – Texarkana with a final score of 88-81.
Gus F. Taylor Gymnasium was rocking Saturday afternoon as the Texas College students showed up in big numbers, filling the student section to capacity. For most of the first half, Texas College and Texas A&M - Texarkana went back and forth. Tied at 39 with 3:09 remaining in the half, the Steers ignited a 9-2 run with consecutive three pointers by #3 Jayven Humphrey and #4 Tyler Butler to head into halftime with a 48-41 lead. The Steers continued their hot hand from the three in the second half, led by Tyler Butler, a 5'7" junior guard from Houston, who was a stellar 7-12 from the three-point line, while Jayven Humphrey, a 6'4" junior guard from Tupelo, Mississippi, went 6-10 from beyond the arc. As a team, Texas College went a striking 18-30 from the three-point line. The barrage of three pointers from Butler and Humphrey proved too much for the Eagles as the Steers pushed their lead to 14 points, 81-67, at the 3:47 mark in the second half. #3 Jayven Humphrey finished with a game high 26 points, while #4 Tyler Butler tallied a 21-point performance for the game.
Next up for the Steers are road games at Our Lady of the Lake University (OLLU) in San Antonio on Thursday night, January 26, and a Saturday afternoon matchup against Huston-Tillotson University (HT) in Austin on January 28. Texas College defeated OLLU, 85-80, on December 10, and won over HT, 84-77, on December 12; both games were played at Texas College's Gus F. Taylor Gymnasium.