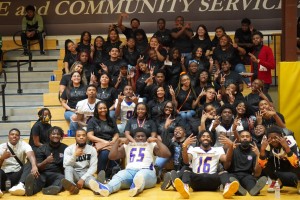 On Thursday, March 30, Texas College welcomed prospective students to Steer Preview Day. With over 250 high school seniors on campus, inclusive of individuals from Tyler High School, Carter High School, South Oak Cliff High School, Wilmer Hutchins High School, and Kimball High School, as well as others, the event energized the campus and was not one to be missed.
Throughout the day, the prospective students were afforded a dynamic opportunity to visit the College and tour campus, as well as meet key faculty and administrators and engage with current students. During this time, students also learned more about the admission process, academic programs, applying for financial aid and scholarships, residential life, athletics, band, choir, Greek life, and much more. Steer Preview Day excitedly culminated as six students were selected to receive scholarships for the upcoming 2023-2024 academic year.
View a brief recap of Steer Preview Day by watching the video below.