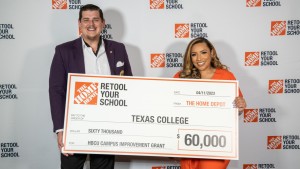 On Sunday, March 26, the 2023 Home Depot Retool Your School grant competition concluded. Texas College amassed over 553,000 votes throughout the month-long competition, which positioned the College in fifth place to earn a Campus Improvement Grant of $60,000. Final project proposals are currently under consideration and will be released upon their finalization.
The official results and awarding of grants were announced at The Home Depot 2023 Retool Your School Awards Celebration on Tuesday, April 11, 2023, in Atlanta, Georgia, at the Mercedes-Benz Stadium.
2023's grant award marks the fifth grant Texas College has won from The Home Depot Retool Your School grant competition.
Thank you to every single individual who voted this year! Your valiant and tireless efforts are evident and greatly appreciated. Thank you, again, for your support of this initiative!
To see the full list of winners, visit: https://retoolyourschool.com/2023winners